Studio Piano Movers in Utah
If you have a Studio Piano, Utah Piano Movers is here to help! We have the necessary man power, tools and protection needed to move your beautiful piano wherever it needs to go!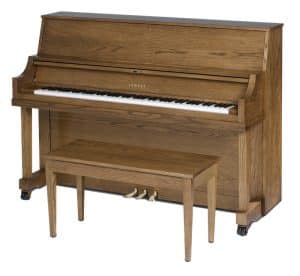 What are the steps involved in moving my Studio Piano?
Measure and Determine the Size of your Piano (Length, Width, Height)
Remove the legs and dissemble any other parts that may be prone to breaking during the move.
Supply all the necessary blankets, padding  and protection to securely transport your piano.
With man power and our piano dolly, we will move your piano into our moving truck, and securely fasten it for the move.
We repeat these steps in the opposite order and your piano will be moved, unharmed and safe and its new location!
A studio piano is a full-sized piano that is typically used by schools, churches, and even professional musicians. Studio pianos have the longest keyboard of any type of piano, and they are also the most expensive. The height usually ranges from 45″ to 47″ tall.
Studio pianos are a good choice for advanced players who want the best possible sound and feel. They are also a good choice for people who have the space to accommodate a large instrument.
Studio Piano Movers Near Me